Discover Etna volcano 
Situated in Sicily, near the city of Catania
Last recorded eruption: 24 to 29 August 2018
Age: 550 000 years
Altitude : 3328 m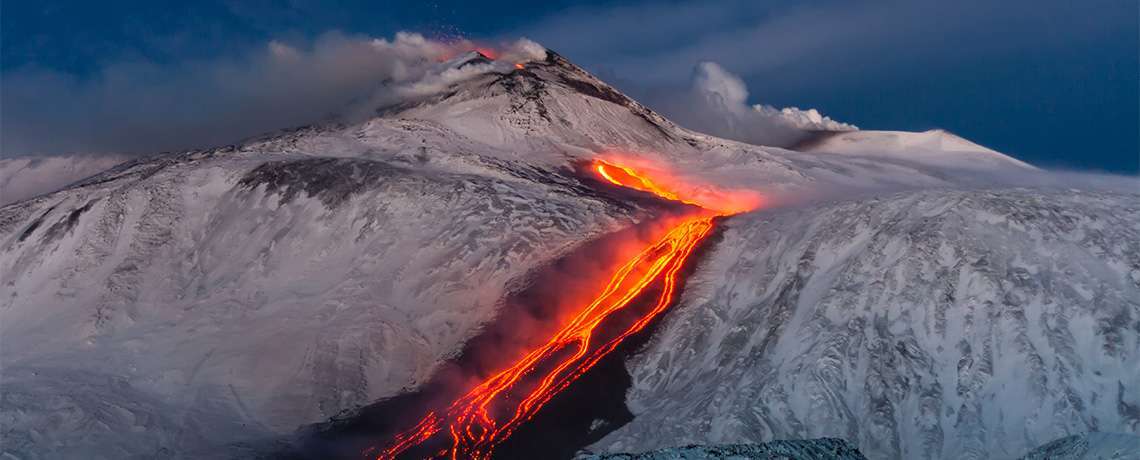 Eruptions Etna 
Etna is a volcano in constant activity that alternates periods of rest with phases of eruption. Volcano Etna always appears dominated by a plume of smoke. When the volcano erupts a period of earthquakes precedes its activity, followed by degassing and emissions of volcanic ash and by a magma emission.
Its explosive and effusive activity attracts crowds of visitors from around the world because of its spectacular nature. Etna's eruptions can destroy houses and roads, but generally they are not dangerous for people, except for fortuitous events or carelessness. Our excursion Etna during the eruptions, is done safely.
Some volcanoes have only one kind of activity, however it is possible that during an eruption there can be both phase, explosive and effusive. Eruptions are classified according to their characteristics: Hawaiian, Strombolian, Vulcanian, Phreatomagmatic, Plinian eruptions or Vesuvian eruptions.
The Hawaiian-type eruption is typical of Hawaii's volcanoes, the eruption is not very explosive and the lava flows are fluid, the lava fountains can reach a kilometer in height.
The Strombolian eruptions are named after the italian volcano Stromboli (Aeolian Island, Sicily, Italy), the eruptions are small to medium in volume, with sporadic violence and consist of ejection of incandescent cinder, lapilli, and lava bombs, to altitudes of  just few hundreds of metres. 
A Vulcanian eruption takes is name from the island of Vulcano (Aeolian Islands, Sicily, Italy), eruption's characterised by a dense cloud of ash-laden gas exploding from the crater and rising high above the peak. 
Phreatomagmatic eruptions are volcanic eruptions resulting from interaction between magma and water. This type of eruption is also known as Surtseyan eruption, such as the island of Surtsey in Iceland which was formed in 1963.
These explosive eruption types are named after Pliny the Younger, a Roman statesman who wrote a remarkably objective account of the eruption of Italy's Mt. Vesuvius in 79 AD. These spectacularly explosive eruptions are associated with volatile-rich dacitic to rhyolitic lava, which typically erupts from stratovolcanoes. The duration these eruptions is highly variable, from hours to days.
Exploring a fascinating volcanic environments
Our excursions are led by official alpine / volcanologist guides, the only professionals authorized by the Italian law to lead groups on active volcanoes in Sicily
The Natural Park of Etna is the first that have be established between the Parks of Sicily in 1987, with its 59,000 hectares. It protects a unique natural environment surrounding the highest active volcano in Europe and promotes the environmentally development of local communities. With its forests, trails, unique landscapes, typical products and historic centers, the Park of Volcano Etna is an attraction for all type nature-lovers, hikers and for gourmand with local food specialities and lovely wine.
Mount Etna is a volcanic environment in permanent motion, so unique at every moment. The most beautiful sights to see and to discover on Mount Etna are the areas up to 2000 m above sea level with the wide variety of landscapes and the richness of the fauna and flora. There are no less than 300 lateral craters, 250 lava tubes and many centuries old forests and lava flows.
It is a paradise for the hikes and the excursions in touch with the nature.
The summit area is a magnificent desert of pyroclastic ashes, sulfur and fumarole, very interesting to visit in case of real volcanic activity, in winter with hiking skis, snowshoes or snowboard. During summer we organize the summit visit of Etna by foot, mountain bike or by jeep 4x4. In the event of an eruption, the english guide, who's specialized and trained on volcanoes will accompany you safely to the nearest eruptive activity.
In winter the temperatures can go up to -15 ° C, conducive to snowfall covering the volcano Etna from December to March. The combination of the high altitude Etna volcano, the relatively humid climate prevailing there and volcanic ash falls during frequent eruptions, allows the maintenance of snowfields protected from the sun by the layers of ash. This allows to discover the volcano in all its beauty as well in summer as in winter. Discover our excursions to live a moment full of emotion and strong sensations on the highest volcano in Europe.
Team Etna3340
Antonio and Roberto, we are brothers from a little village on the slopes of Mount Etna, after a long stay abroad between France, Switzerland and England, we decided to come back in Sicily for the mutual love of our volcanic island. 
We would like to share our passion of this territory rich in contrasts and sports opportunities which is Sicily. Knowing very well our land, we love to practice hiking on Etna as many others sports in contact with nature "volcanic and marine". 
Of our passion for Etna, rich in contrasts and sports activities, was born Etna3340 website. We propose differents excursions to make you discover Etna and its breathtaking landscape. 
Our tours in Sicily are led by an official tourist guide, mount Etna excursions by a French-speaking alpine guide / volcanoologist, the only professional authorized by Italian law to lead groups on active volcanoes. The excursion starts early in the morning, in small groups of maxi 8 or 12 people, to enjoy the volcano and its panoramas, far from the crowds. In compliance with European standards, we have vehicles with VTC licenses, prices include insurance and VAT. To offset our CO2 production we plant trees with https://greenamity.org/company/etna3340 and https://edenprojects.org/partners/ We sponsor the local running club Etna Running asd, sports competitions on Etna like the 0-3000 super marathon, the Etna Trail https://www.etnatrail.it/ and the international ski mountaineering trophy https://www.trofeointernazionaledelletna.com/