01/01/2019
Sicily Winter Holiday
If you are planning to visit Sicily in winter (December to March), you should know that day time temperatures are around 10°C and night time temperatures falls to about 0°C. Sicily is milder than many other regions of Italy. While over the highest Sicilian's mountains can be a lot cooler and even snowy, ideal for skiing.
Mount Etna make great skiing locations for those who want to break their holiday routine with some active day tours on its slopes. Snowshoes are ideal for hiking Mount Etna in winter. Immerse yourself in the volcanic nature, take walks on Etna trails out of the ordinary, between lava flows and volcanic craters, that will make your holiday unique.
Excursions in Sicily visiting Mount Etna covered in white snow
For anyone looking for Mount Etna tours in winter and want to enjoy the beautiful snowy landscapes, excursions on snowshoes will reveal an experience that frees the mind and regenerates the body. Snowshoes are synonymous of freedom and autonomy, suitable for hikers who want to "live" the volcano in an alternative way. Far from the usual crowds of tourists that populate the ski resorts, parking lots, etc. An Etna tour in winter takes you to the silence of the woods, to peaceful stroll around craters, places where the white blanket erased the usual tracks used by hikers in summertime.
For those who have never seen them, snowshoes are "equipments" that you put on your feet to increase contact surface on fresh snow, so you can walk on it without sinking. However, it is good to remember, that the snowshoeing requires an extra effort ranging from 40% to 60%, depending on the snow conditions, compared to a similar walk.
Snowshoes are suitable for everyone, Etna tours for children and the elderly, always paying special attention to where you put your feet. The Mt Etna trails are great for walking tours with snowshoes, a unique experience during the day, under the beautiful mountain sun, and at night, with the full moon whom light the way. In this soft and quiet landscape, where everything is wrapped in a single white blanket, you realize how beautiful nature can be.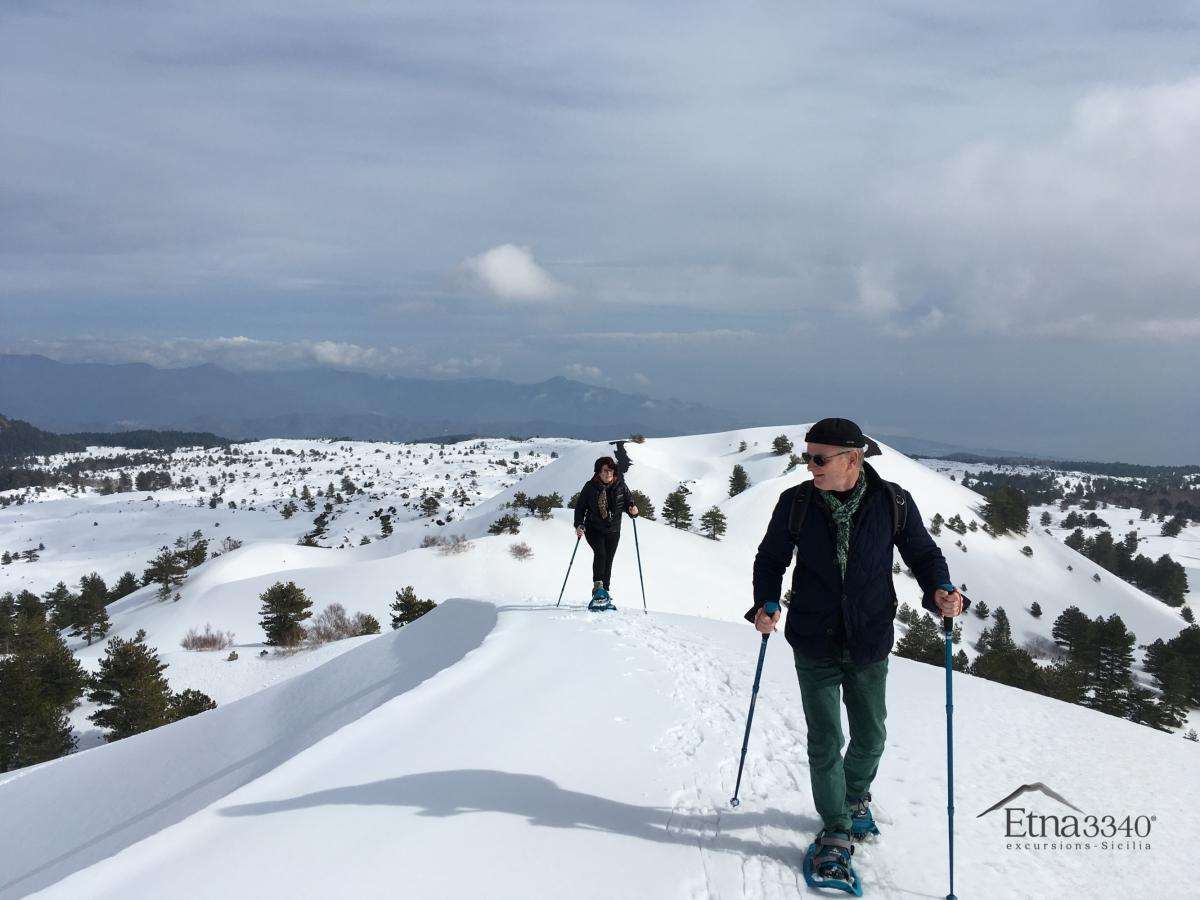 The snow-covered trees, the icy lava caves, the sinuous lava flows, the craters that almost merge with the clouds, transform the landscape into a fairy tale of which we are the protagonists. The footprints imprinted on the snow of the wild animals remind us that despite the forest, as we pass, seems to have no inhabitants, instead is rich and gives shelter.
When you walk in the snowy Etna volcano you are immersed in a gentle silence, interrupted only by the muffled sound of our steps. You can free yourself from the toxins of a busy life and breathe fresh air, relaxing your body and mind, experiencing the pleasure of intense serenity. The warm light of the sun, reflecting on the white blanket, shows us the purity that dwells in each of us.
---