04/12/2018
That's why you have to visit Sicily with children!
In Sicily you'll find spectacular culinary traditions, welcoming people, a unique glorious history, some of the most beautiful beaches of Italy and several active volcanoes. A road trip holiday in Sicily, inspiring the sense of adventure to your childrens, here you can surely find your ideal dimension.
The island is very large, the largest in the Mediterranean, and offers a mild climate all year round, spring, early summer and autumn are generally best for families with small children for sightseeing, trips to the seaside or hiking in the mountains. One above all cannot go unnoticed, from the moment you arrive at the airport and every time you take the car for one of your excursions; Etna is there, imposing and majestic!
Volcano Etna is almost in constant activity, making it the most active volcano in Europe. If you are passionate about hiking, no trip to Sicily with kids would be complete without a visit to Mount Etna and its thrilling natural enviroment.
Explore Etna's old lava flows, stroll around lava "bombs", discovering houses buried by volcanic ash and visit lava caves. The excursion can be great success with kids, whom can spend a day wandering on one of the most powerful natural wonder of the world. This lunar landscape is an unforgettable experience and a great opportunity to discover the mysteries surrounding volcanoes, which will be, for sure, a hit with your kids.
Although the place is fascinating, many people with children don't think of an excursion to Mount Etna, fearing that the climb is too strenuous or even dangerous. Do not worry, you must know that there are many excursions on Etna suitable for children and older people.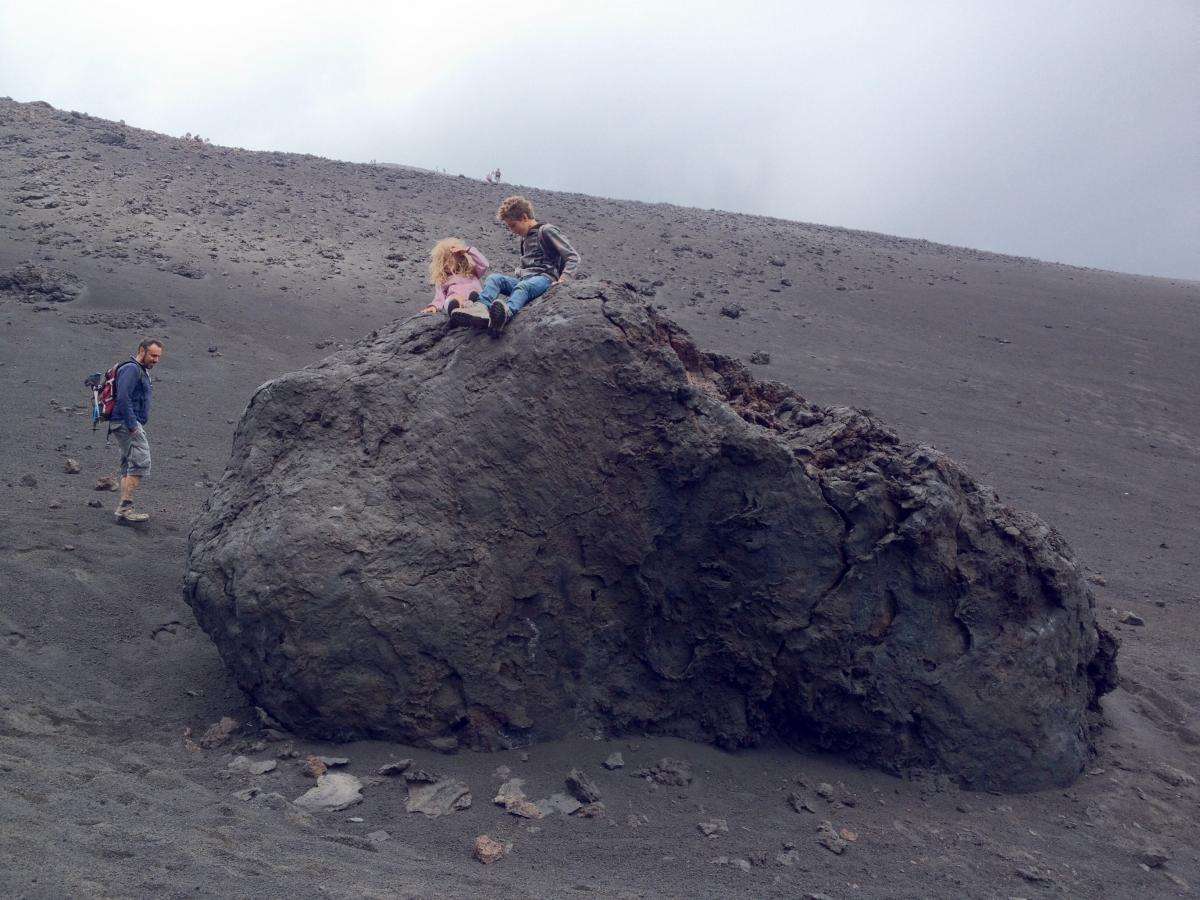 Hiking Mount Etna summit is not recommended for children under 16. The extection and difficulty of this Etna trail, whom cover several kilometers in a very dangerous area of the volcano, require a good physical shape. It is a real immersion in the closest areas to the eruptive vents. Amazing adventure not really advisable to the most fragile people (children, elderly, etc.).
However, Etna trails like the North, Valle Del Bove or the South are are more accessible for children. Choosing the right excursion will allow you to enjoy the day spent with your family prizing the surroundings in a less physical way.
What you need to know before taking a visit to Mount Etna with a child ?
The trip requires a lot of preparation when visiting Mount Etna with kids. The temperature can drop very fast the higher you go, and strong wind increases the feeling of cold. Make sure to wear appropriate equipments, and check the weathercast the day before the tour. One of the most important rule to respect, mostly if you're going for a self-guided tour, is to stay on the track: it is absolutely not advisable to venture off the trail without knowing the dangers of the area. This is especially recommended if you are visiting with children.
Nevertheless, you have several solutions allowing to climb close to the summit, without taking risks, and with no real physical efforts. Whether by cablecar or with our 4x4 truck, you can easily achieve the 3000 meters without exhaust yourself and your children. Especially since this type of transportation allows to transmit to the youngest a unique emotion in front of a grandiose scenery: to climb on the hot craters aboard a jeep, to dominate the volcano and its landscape, to see a lava flow, to impress for sure, the little ones.
Our agency strongly advises against choosing a self-guided excursion or with a non-volcanologist guide, whether you are taking children or not, because it can get very dangerous at any time. You must remember that Etna is an active volcano.
You will spend an unforgettable moment in a lunar landscape locked between land and sea, a place where your children will be charmed by the grandeur of the volcano and the diversity of nature. Our guides have the priority to make you live a unique moment, with a full assistance throughout your trip. And that, in order that your experience on Etna will ends as exceptional as it be.
Don't hesitate no more, take a visit on Mount Etna with your children, it is possible, it is fun and the adventure will surely be loved by you and the younger !
---